We all have a responsibility to keep campus healthy.
UC Davis' public health policy (Interim 290-01) aligns with current county, state and CDC guidance. This policy outlines requirements that all affiliates must follow, to reduce the spread of COVID-19 on property owned/leased by UC Davis.
Policy Requirements
Recommendations and Limited Requirements
COVID-19 testing is recommended, to help you manage risk.
Asymptomatic COVID-19 testing can help you manage risks related to COVID-19 exposure, travel, crowded events or socializing with high-risk individuals. See COVID-19 testing available for employees and students. Read more about previous testing requirements.
Some events have requirements for screening.
Certain types of events — specifically trainings and camps that are hosted by UC Davis departments and units — must comply with additional public health requirements. See Event Guidance for details.    
Check guidelines for domestic and international travel.
As of March 2022, the university has returned to its pre-pandemic international travel policies. See the Global Affairs website for more.
---
Stay current on face covering requirements and recommendations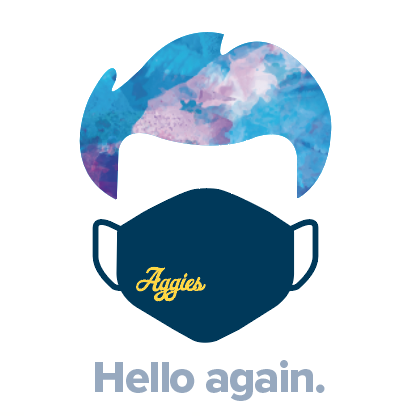 Everyone is required to wear face coverings in healthcare settings—defined as all settings on campus where human healthcare services are provided, including services related to student health, behavioral health and occupational health, require everyone to wear face coverings.
For other settings, the California Department of Public Health has updated their masking recommendations. Masks are recommended for everyone when levels of COVID-19 infections are higher. Check Yolo County's COVID-19 community level to interpret CDPH guidance based on your risk:
When community levels are low

, CDPH advises those at lower risk for severe illness to wear a mask based on their personal preference and individual level of risk and those at higher risk for severe illness to consider wearing a mask in crowded indoor public places.

When community levels are medium

, CDPH advises those at lower risk for severe illness to consider wearing a mask in crowded indoor public places. Wearing a mask is recommended in crowded indoor public places for those at higher risk for severe illness.

When community levels are high

, CDPH recommends all those at lower risk of severe illness wear a mask in crowded indoor public places and strongly recommends those at higher risk for severe illness to wear a mask in indoor public places.
Can I require someone to wear a mask when meeting with me? Can my department require universal indoor masking?
No. Campus policy aligns with both county and state guidelines for a "strong recommendation" to wear a mask indoors. Because there is no public health requirement and because campus policy does not maintain a requirement after March 19, you may not require others to wear a mask.

Additionally, you may not ask someone to wear a mask. Instead, we are aligning with public health policy and Yolo County Public Health orders which acknowledge the right to an individual choice for when to wear a mask. To the extent an individual has personal circumstances requiring a higher degree of protection, we encourage them to follow the Yolo County Public Health recommendations regarding the benefits of one-way masking. (March 24, 2022)
What counts as a face covering? Can a face shield be worn instead of a mask?
According to campus policy (Interim 290-01), the definition of a face covering is "a surgical mask, a medical procedure mask, or a tightly woven fabric or non-woven material of at least two layers. A face covering has no visible holes or openings and must cover the nose and mouth. A face covering does not include a scarf, ski mask, balaclava, bandana, turtleneck, collar, or single layer of fabric. Face shields are not substitutes for face coverings and should be reserved for clinical settings or by explicitly authorized medical exception. For purposes of this policy only, a face covering may include a respirator (N-95) worn voluntarily."

Will campus provide face coverings for employees to use?

Cloth coverings or paper masks are acceptable face coverings to meet mask requirements. In addition, if an employee requests to have an N95 respirator provided for their use at work, their department shall provide one. (Updated June 27, 2022)
---
Stay Home If You're Sick
All individuals, regardless of vaccination status, may not enter or remain on university property if:
They have tested positive for COVID-19 within the past 10 days
They have symptoms of COVID-19 (not related to a chronic condition)
These questions are also in the Daily Symptom Survey. Individuals who take the survey and are designated "unapproved" to enter facilities will need to be cleared by their medical provider to return to campus, with some exceptions.
---
Mandatory COVID-19 Reporting
Students and employees must immediately report a COVID-19 diagnosis, if they test positive for COVID-19, or if they are a close contact, in accordance with the current protocol found on the Safety Services reporting page. You will then receive instructions within Health-e-Messaging. As resources allow, a member of the COVID-19 reporting team may respond to your report with support.
---
Enforcement and Discipline
Anyone violating this policy is potentially threatening the health or safety of members of the campus community. Ensuring compliance with this policy is the responsibility of the units responsible for each of the university facilities and/or activities. All campus affiliates and non-affiliates using university property/facilities, or otherwise engaging in university business, must follow directives to comply with this policy by those charged with implementing and monitoring compliance.
UC Davis police officers are not responsible for enforcing this policy with respect to students, employees and volunteers.
Reporting Violations and Possible Sanctions for Non-Compliance, by Audience:
Visitors/Non-affiliates
Visitors/Non-affiliates: Sanctions, including those for "committing an act that is likely to interfere with the peaceful conduct of activities" in accordance with CCR, Title 5, section 100012
Staff Employees
All campus affiliates and non-affiliates, including all employees (academic, faculty, staff), are required to follow the University's public health policy and protocols.


At the Worksite
If an employee is not complying with protocols (e.g., not wearing a face covering in required settings, refusing to complete the symptom survey), advise them of the requirements and direct them to comply. If the employee complies (e.g., dons a face covering), the incident should be documented and the matter is considered resolved.

If the employee continues to refuse to comply with protocols (e.g., won't wear a face covering in required settings), they should be directed to leave the workplace immediately. The supervisor reports such misconduct to their Human Resources business partner and Employee & Labor Relations (E&LR), who assist with preparing appropriate disciplinary action to be issued on a case-by-case basis.
>> If discipline is warranted, the supervisor meets with the employee at the start of the next scheduled shift and issues appropriate discipline which, depending upon the individual circumstances, may be a letter of warning, an unpaid suspension, or termination.

---

General Building Areas Where Staff Member is Not in Compliance
In campus buildings, a list of those who will serve as the Designated Department Staff person (DDS) for compliance issues requiring assistance will be created. Information about the availability of face coverings will be widely available.

>> If the DDS observes a staff member not in compliance, they should remind the individual(s) about the policy and its requirements. If the employee complies, the matter is resolved.

>> If the staff member is non-compliant, and are identifiable, the DDS reports the incident to the staff member's supervisor for an appropriate response. (see above)

---

Supervisors:

If an employee discloses they are unable to wear a face covering due to a medical reason, they should be directed to immediately leave the workplace to get a medical certification describing their functional limitations and provided with

Disability Management Services (DMS)

contact information for support. An employee can use sick leave to cover hours while unable to work. If the employee provides medical certification, the employee and supervisor (with DMS support) engage the interactive process to determine whether functional limitations can be accommodated.

Academic/Faculty Employees

All campus affiliates and non-affiliates, including all employees (academic, faculty, staff), are required to follow the university's public health policy and protocols.

Any incidents of non-compliance by an academic appointee or faculty member concerning the protocols on this page should be submitted to that unit's leadership (e.g., department chair) or to the Office of Academic Affairs at this email: acadaffairsreport@ucdavis.edu.

The unit leader will work with the Office of Academic Affairs to manage responses on these matters and track non-compliance with policy. Any academic who does not adhere to the guidance of this policy and the direction from their unit leader could be subject to discipline.

Students

Student Conduct Policy
The campus has developed an interim student conduct policy to address COVID-19 related incidents. The UC Davis Policy on Student Conduct and Discipline—Interim Student Conduct Policy allows imposing disciplinary action for violations of the Interim Public Health Policy.

Reporting Violations
Campus Policy Violations: Reports of students or student organizations who allegedly violate campus policy, even when on private property, can be made to OSSJA for investigation. If a student is found responsible, students can face consequences including, but not limited to, censure, probation up to suspension or dismissal. Student organizations can face consequences including, but not limited to conditional registration, loss of privileges and revocation of registration status. To report an incident involving a student or student organization, please fill out the OSSJA Incident Report Form.
---
Questions
Please send any questions to campusready@ucdavis.edu