Upgrade your face covering for learning and working on campus this winter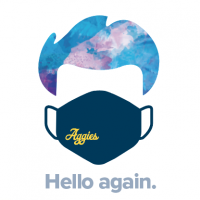 Face coverings must be worn by students, academics, staff and visitors at all indoor UC Davis locations and mass transit.
See detailed face covering requirements for campus
In January 2022, the California Department of Public Health recommended that people upgrade from cloth face coverings to either surgical masks or KN95/N95/KF94 disposable respirators, in light of the more transmittable omicron variant of the SARS-CoV-2 virus. Yolo County Public Health provided this additional guidance:
"Upgrade your mask to an N95, KN95, KF94, or similar respirator, double mask with a cloth mask over a surgical mask, or place a PM2.5 filter between the layers of your fabric masks. Make sure your mask covers your mouth and nose without gaps between the edges of the mask and your face."
N95-style masks as optional upgrade on campus
UC Davis also encourages the voluntary use of upgraded masks and respirators on campus, to meet existing campus face covering requirements.
UC Davis is working to provide one KN95, N95 or KF94 respirator-style mask for voluntary use by students and employees, as an optional alternative to cloth face coverings to offer some level of increased effectiveness in comparison to cloth face coverings. Reusing and replacing this face covering is a function of overall availability of the resource as well as your comfort, preference and the environment in which you're using the respirator. See guidance for extended use.
Distribution of N95-style masks to students and employees
N95-style masks are being offered on a voluntary basis, and we request students and employees only accept one face covering from campus supplies at this time, to assist in wide distribution.
Departments: Please follow these Supply Chain directions and use Aggie Buy to order part 31111-118F in quantities that support one mask per student.
Students and employees: If you would like an N95-style mask, please contact your department to find out how they are distributing them. To assist in wide distribution, please only accept one face covering from campus supplies at this time (if you are offered a mask from multiple departments, for example).
Students:
Training Encouraged
Students are encouraged to watch this 10-minute training on how to properly use an N95 respirator for voluntary use before using a mask provided by campus sources:
Employees:
Training and Form Required
For voluntary use of N95, KN95 or KF94 masks, UC Davis employees are required to complete this 10-minute training and sign this form:
Get the most out of your N95, KN95 or KF94
Extended use of N95-style masks (also called "filtering facepiece respirators") offers an improvement to typical cloth face coverings, but is not meant for standard respirator usage associated with specific workplace/operation hazards that have typically required the use of N95s in the past. These guidelines are intended to support extended use during the pandemic against the virus that causes COVID-19:
Store the mask in a bag in a clean, dry space. The user of the respirator should be able to be clearly identified. Face coverings should never be shared.

Wash your hands prior to and after handling the respirator.

Take care to avoid touching the inside of the mask while donning and doffing.

It is better to leave the respirator on, rather than taking it off and putting it back on repeatedly, if possible. The less a respirator is put on and taken off, the more you are able to prevent wear and soiling of the respirator.

E

nsure the respirator is not soiled or wet prior to wearing it.

Do not wash your respirator.

Ensure the elastic strap and nose clamp are in good condition, and that the respirator stays on your face without moving.

Discard your respirator in the trash if it becomes soiled or wet, if it loses fit or if you have come into close contact with a person known to have been infected with COVID-19.
---
Face covering best practices
Putting on a face covering
Avoid touching the front of the face covering once it's on.
Wash hands or use hand sanitizer prior to handling the face covering.
Ensure the face covering fits over the nose and under the chin.
Situate the face covering properly with nose wire snug against the nose (where applicable).
Tie straps behind the head and neck or loop around the ears.
Taking off a face covering
Do not touch your eyes, nose, or mouth when removing the face covering.
When taking off the face covering, loop your finger into the strap and pull the strap away from the ear, or untie the straps.
Wash hands or use hand sanitizer immediately after removing.
Care, storage and laundering
Keep face coverings stored in a paper bag when not in use.
Cloth face coverings should not be used more than one day at a time and must be washed after use. Cloth face coverings should be properly laundered with regular detergent before first use and after each subsequent day's use.
Face coverings should be replaced immediately if soiled, damaged (e.g. ripped, punctured) or visibly contaminated.
Disposable face coverings must not be used for more than one day and should be placed in the trash after you return home for the day or if it is soiled, damaged (e.g., stretched ear loops, torn or punctured material) or visibly contaminated.
How to improve the effectiveness of a cloth face covering
The Centers for Disease Control and Prevention off these updates for how you can improve the fit of your face covering. These two general principles can be applied to all types of effective face coverings:
Make sure your face covering fits snugly, without any gaps to allow air or respiratory droplets to get through.
Select a face covering that has layers to keep your respiratory droplets in and others' respiratory droplets out.
The CDC offers these additional tips and you can also read additional details:
DO choose a face covering with a nose wire.
DO use a mask fitter or brace to prevent air from leaking around the edges of the face covering.
DO check that your face covering fits snugly over your nose, mouth, and chin.
DO add layers of material — with either a cloth face covering that has multiple layers of material or by wearing a disposable mask under a cloth face covering.
DO NOT combine two disposable masks when "double masking."
DO NOT combine a KN95 mask with any other mask. Use only one KN95 at a time.