Completing the worksite plan includes planning for adjustments to your workplace configuration.
We are currently working on updating this section of the Campus Ready website to provide relevant resources that help departments revise Worksite Plans to integrate new planning requirements for flexible work arrangements, as well as
new public health guidelines
related to administrative work. 
You know your workspace best and how to best achieve public health protections while maintaining a comfortable and functional space for everyone. Every office space is unique, so each department must create a plan that helps protect employees, students, patients, customers and visitors. These are just guidelines to help you think through all the ways you may be able to minimize threats and don't cover every type of worksite situation. 
Top Tips:
Download floorplans for your worksite from FacilitiesLink.
Reference this sample office configuration and work schedule prepared by Design and Construction Management. Prepare a version that can be shared with your department. It does not need to be complex or to scale – just accurate and simple to understand.
Consider reintroducing staff into the office on staggered days, shifts or phases. (See example here.)
If you share a building with other departments, coordinate with worksite planners from those departments. You should coordinate plans for shared building areas (e.g., restrooms, stairwells, corridors, elevators, lobbies, etc.).
Use signage to encourage personal protection practices.

Encourage occupants to maintain eye contact (i.e., not immersed in their phones) to ensure physical distancing parameters are met.

Remove or reconfigure seats and furniture needed to preserve 6 feet of physical distancing.

Add a location where visitors can sign in using a Campus Ready sign-in sheet or similar. This will be helpful in the event contact tracing is needed. 
Learn more about the campus's building ventilation and filtration and who to contact for questions and assistance.
---
  Workstations and Cubicles
Reconfigure workstations so that employees can maintain 6' physical distancing and do not face each other.

If facing each other cannot be avoided, add physical partitions.

As occupants access corridors adjacent to workstations, maintain eye-contact to ensure physical distancing parameters are met.

Additional chairs from reduced-occupancy meeting rooms can be lined against workstations to help maintain physical distancing.

Shared spaces within workstations should not be used by more than one occupant per workday.

Face coverings are required when workstation occupant is unable to ensure compliance with physical distancing parameters.

Routinely sanitize your area upon arrival and again before leaving.  You should also sanitize whenever you suspect a surface may be contaminated.
---
 

 

  Private and Shared Offices
Private offices should only contain one occupant at a time.

Shared offices should only be used by one occupant at a time, unless physical distancing parameters are met.

Occupants should sanitize their own work area prior to the start of and at the end of each day or when contamination is suspected.

Door may be closed or open at the discretion of the occupant. 
---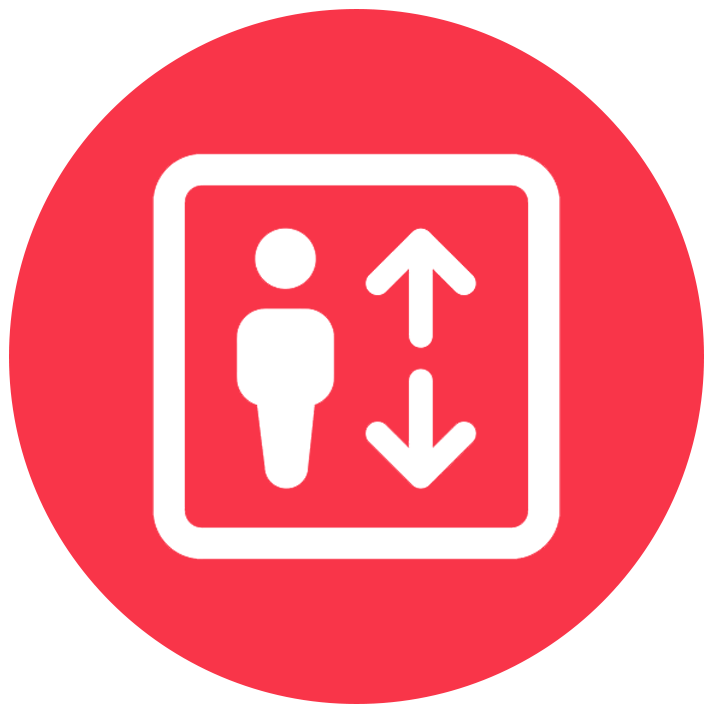 Movement of People (e.g. hallways, elevators, stairs, entries/exits)
Creating one-way corridors may be impossible or impractical in some worksites (e.g., narrow hallways). However, it may be possible to establish "waiting zones" and install "stop for oncoming pedestrian traffic" signage.

Place visual cues such as floor decals, colored tape or signs to indicate to employees and visitors where they should stand if waiting for others to pass and indicate the appropriate direction of travel.

Place one-way directional signage for large open workspaces with multiple thruways.

Consider designating specific stairways for up or down traffic if building space allows.

Depending on the size of your elevator, limit the occupancy. Wear face coverings and avoid touching the elevator buttons with exposed hand/fingers, if possible.

Provide for contactless payment systems or, if not feasible, sanitize payment systems after each use.
---
  Conference Rooms
Meetings should occur remotely if possible.

If meetings should be short and limited to the number of people allowed with the use of physical distancing measures if virtual meetings are not feasible.

Remove or rearrange chairs and tables or add visual cue marks in meeting rooms to support physical distancing practices between attendees.

Lingering and socializing before or after meetings should be discouraged.

Sanitize after each use.
---
  Lobby, Reception and Common Areas
Common areas (e.g., lobby, security check-in) should be cleaned and disinfected on a daily basis at minimum. See the Sanitize Surfaces page for more information.
Close non-essential shared spaces such as lobby waiting areas, game rooms or lounges.
Add a location where visitors can sign in using a Campus Ready sign-in sheet or similar. This will be helpful in the event contact tracing is needed. 

Consider asking guests to phone ahead of arrival.

Consider eliminating reception seating areas and requesting that guests phone ahead.

Regulate the use of common areas with clear signage (including maximum occupancy) and physical distancing measures in accordance with public health rules and guidelines.

Stagger use and restrict the number of people allowed in any essential shared or common spaces to ensure everyone can maintain physical distancing.

Advise staff not to linger or socialize in common areas.
---
  Restrooms
Use of restrooms should be limited based on size to ensure at least 6 feet distance between individuals.

Doors to multi-stall restrooms should be able to be opened and closed without touching handles if at all possible.

Place a trash can by the stall door for paper towels if the door cannot be opened without touching the handle.

For single restrooms, provide signage and materials (paper towels and trash cans) for individuals to use without touching the handles.

Place signs indicating that toilet lids (if present) should be closed before flushing.

Place signs asking employees to wash hands before and after using the restroom.

Prevent use of bathroom sinks and urinals closer than 6 feet apart by posting signage indicating units closed for use.
---
  Kitchens and Break Rooms
See the Sanitize Surfaces page for more information on keeping these areas clean and disinfected on a daily basis.

If silverware and dishes cannot be kept clean, separated and covered, disposable options are recommended.

Remove or rearrange chairs and tables or add visual cues to support physical distancing practices between employees.

Labels should be shown on the floor at 6 foot intervals to maintain distance at congestion points.
Avoid communal meals and discourage shared food.
Avoid use of shared amenities such as water coolers, coffee makers, etc. or sanitize after each use.
Water fountains will be turned off and covered. Water bottle-filling stations will remain open and be cleaned twice per day by Custodial Services.
---
Other