Departments must develop worksite-specific plans before employees can return to campus.
We are currently working on updating this section of the Campus Ready website to provide relevant resources that help departments revise Worksite Plans to integrate new planning requirements for flexible work arrangements, as well as new public health guidelines related to administrative work.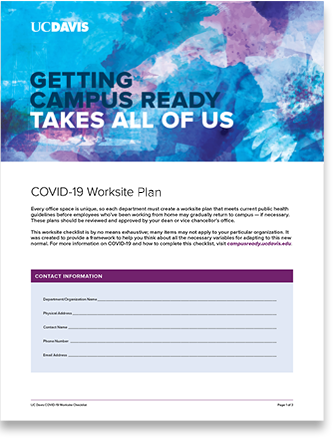 Every office space is unique, so each department must create a plan that meets the required health and safety guidelines. If you need to obtain floorplans for your departmental space, go to FacilitiesLink. If you do not have an account, you may apply for access. 
Review the considerations for guidance in developing your worksite plan.
Develop an appropriate worksite plan specific to your workspace. To help, use the Worksite Plan Checklist, the Worksite Plan Template and Office Configuration Guidance.
Submit your worksite plan to your dean, vice chancellor, vice provost or equivalent executive. Once approved, please email your final plan to campusready@ucdavis.edu.
Train and communicate your worksite plan with employees.
Regularly evaluate the office workspace for plan compliance and make appropriate adjustments.
Download Worksite Plan Checklist  
Download the Worksite Plan Template
---
First, review these important considerations to help develop your worksite plan. Next, explore the office configuration guidance. 
  Support Employee Health
Everyone who can carry out their work duties remotely should continue as directed by supervisors.

Employees should be told not to come to work if they are sick or have any COVID-19 symptoms.

Employees must perform a daily symptom survey before coming to work.

Make disinfectant and related supplies available to all employees.

Make hand washing or hand sanitizing stations readily available.

Distribute, train and communicate the worksite specific plan to all employees.




 
---
  Flexible and Modified Work Schedules
Continue remote work to the greatest extent possible as directed by supervisors.

Employees allowed back on to campus should be aligned with workload drivers as directed by supervisors.

Alternate workdays and/or work hours to limit the number of individuals in the office at one time.

Stagger work hours to reduce the number of people entering or exiting the building at the same time.

Plan for long-term flexible work arrangements as appropriate to replace short-term emergency response telework agreements.


 
---
  Meeting Protocols
Employees should be encouraged to use virtual meeting tools, including phone and virtual teleconference, in lieu of in-person meetings, whenever possible.

If in-person meetings are essential, limit meetings to 10 people or less depending on the most current local, state and federal guidelines. Seating arrangements should accommodate minimum social distancing requirements.

If meetings must occur in person, they should be conducted in a quick manner.

Lingering and socializing before and after meetings should be discouraged.
---
  Procurement of Disinfectants
Disinfectant supplies are still limited, but our Supply Chain staff is constantly sourcing new products.

Recommended products for disinfecting surfaces can be found when clicking the "Centrally Funded PPE" tile on the main dashboard of the AggieBuy website.
When creating your worksite plan, note that you will be responsible for sanitizing your own worksite.
Given the fluidity of the evolving situation, the more daily sanitization your unit can take on within your worksite area, the more our custodial staff can focus on multiple daily cleanings of the high-touch common areas in high-occupancy buildings (e.g. classrooms, restrooms, halls, lobbies, restrooms and stairways). 
Requests for centrally funded PPE will be accepted through June 30, 2021. These items will continue to be available for purchase through our AggieSupply campus stores in 
AggieBuy
as well as many other suppliers in AggieBuy.
---
  Personal Protection Practices
Wash your hands often with soap and water for at least 20 seconds especially after you have been in a public place, or after blowing your nose, coughing, sneezing, or touching your face.

If soap and water are not readily available, use a hand sanitizer that contains at least 60% alcohol. Cover all surfaces of your hands and rub them together until they feel dry.

Avoid touching your eyes, nose, and mouth, and wash your hands after touching your face.

If you are in a private setting and do not have on your cloth face covering, remember to always cover your mouth and nose with a tissue when you cough or sneeze or use the inside of your elbow. Then throw used tissues in the trash. Immediately wash your hands with soap and water for at least 20 seconds. If soap and water are not readily available, clean your hands with a hand sanitizer that contains at least 60% alcohol.

Before and after eating, you should wash your hands thoroughly to reduce the potential transmission of the virus.

If you are eating in your work environment (break room, office, etc.), maintain 6 feet distance between you and others. Individuals should not sit facing one another. Only remove your mask or face covering in order to eat, then put it back on. See recommendation for handling your face coverings. 
---
  Laboratory Work