Completing a daily symptom survey is required for employees entering a UC Davis-operated facility and serves as a reminder to pay attention to your symptoms.
Implementation of the Daily Symptom Survey is the department's responsibility and should be incorporated into your Campus Ready worksite plan. 
Be advised that facility occupants should be prepared to verify their Daily Symptom Survey (Approved email, screengrab or printed copy).
While the process may look different depending on the facility, the survey and the outcomes are the same across campus. 
---
Use the Correct Survey
The Daily Symptom Survey can be accessed from desktop and mobile devices, and completed in under 30 seconds.
---
Options for Implementing Daily Symptom Survey
Please DO NOT create your own version of a daily symptom survey.
Close access to all facility entry points except one, where you assign an employee to verify Symptom Survey compliance prior to allowing entry.

Allow open access to the facility but require Symptom Survey verification at internal locations (e.g., reception desk, individual lab).

Ask employees to forward their Daily Symptom Survey verification to their supervisor's email or another dedicated central email address.

You may consider providing colored stickers that individuals can display to signal Symptom Survey verification.
A

toolkit

is available online and includes guides, sample communications, printable signage and more.
---
Survey status
This key explains each status an employee or student will receive after completing the symptom survey.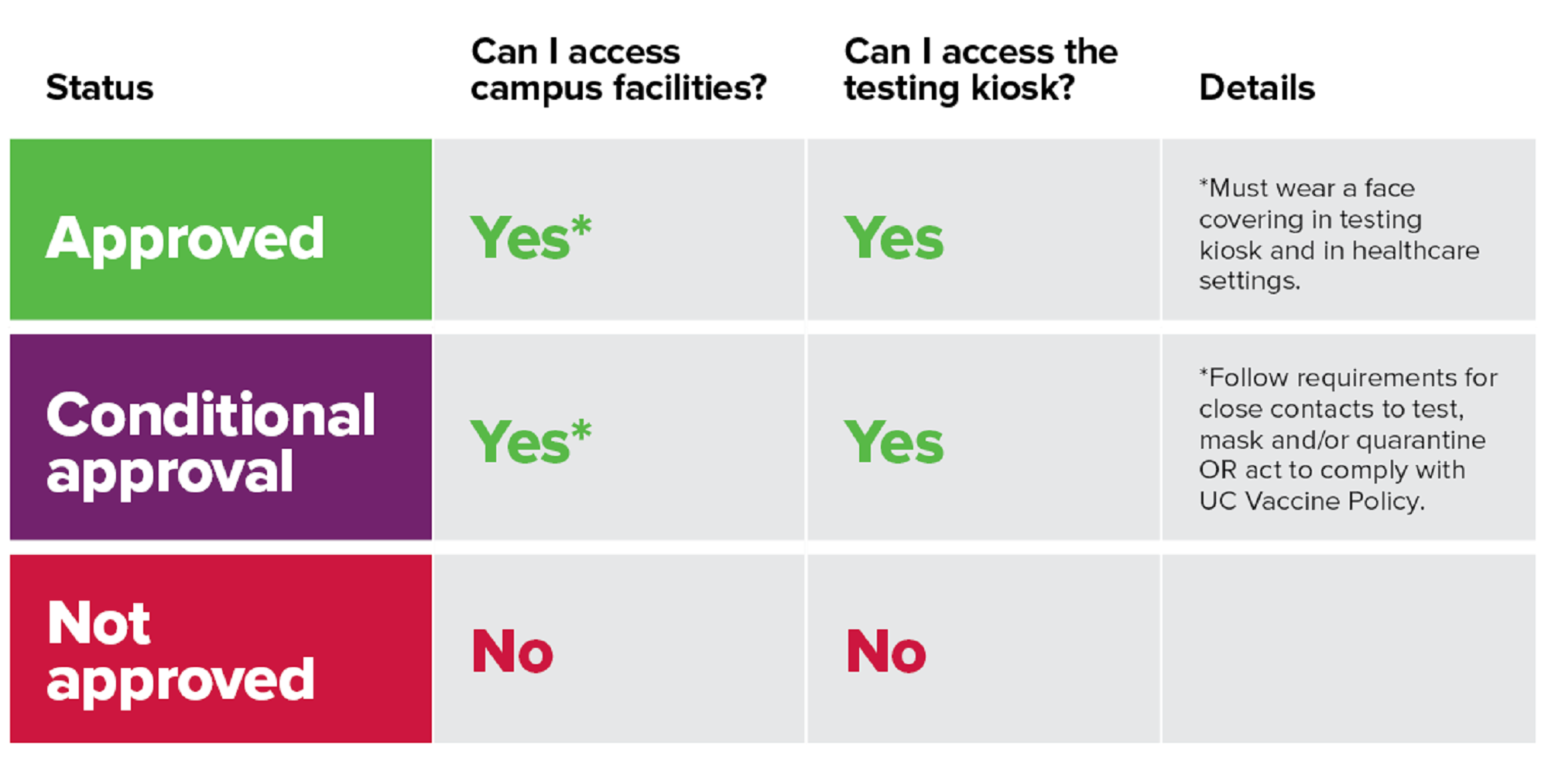 ---
Monitoring Compliance
Your Campus Ready worksite plan should address how you will review compliance rates - on a daily or weekly basis - to ensure employees are using the survey daily.
Consider asking each facility user to forward their Symptom Survey approval letter to a department representative. That individual could compare who is in the building and who has provided Symptom Survey verification.
Can I deny access to an employee for non-compliance?
Absolutely, that's the expectation. If a person enters without having done the survey and you have told them they cannot, let them know that you are going to escalate the situation, per the guidance from the UC Davis Interim Public Health Policy.
How can we implement this in a building that a) doesn't have any receptionist b) houses multiple departments c) doesn't allow us to check all who are entering the building?
Do your best. You know your facility best and those who use the space. Consider coordinating with fellow building occupants and contact campusready@ucdavis.edu if you can't devise a workable solution.
Should employees send a screenshot of their daily approved email to their supervisor, or forward their email?
This up to your department. Either option is fine.
How do we ensure our faculty members are filling out the symptom survey when we as staff aren't there to monitor it?
Consider setting the expectation with faculty members to email their approved survey letter to a designated supervisor or building contact, for example a dean.
Can we implement the survey on an honor system?
No. There has to be a process and it needs to be one that can be reviewed. You need to be able to verify that employees are following the process.
Do we have to check everyone when they come in?
No, you don't if it doesn't work for your facility. However, there does need to be a system in place to check people at some point.
Can you change the survey to route approved/not approved letters to an employee's supervisor?
No. The more complicated we make the survey, the more chance there is for error. We want this survey to be easy and reliable.
---
Symptom Survey Data
The updated student and employee survey is in a secure, HIPAA-compliant system.
Who can review symptom survey emails?
Who is responsible for collecting the survey completion records, especially if there are multiple departments per building?
Here are two options and we'd be happy to add more if you send them to campusready@ucdavis.edu:

The departments within the building can agree to control access at the envelope of the building. This means that you would station someone at the building entrances to physically interact with people who come into the building.

All departments within a building agree to establish an expectation that if an employee is entering a facility, that they take the survey and then email the response they receive to their supervisor.
How long should departments keep Symptom Survey sign-in sheets and emails?
Please do not keep paper files (sign-in sheets) or Symptom Survey emails for longer than the day you need to use it.

Never collect anything that indicates symptoms.
---
Manual Process
The online Daily Symptom Survey must be used by employees. The paper symptom survey for verbal use has been discontinued to ensure the integrity of the Daily Symptom Survey outputs.
What survey do visitors complete?
You can access the visitor survey on the Campus Ready Symptom Monitoring page. Please ensure that employees continue using the correct survey. Visually, the output letters for both surveys are slightly different so you can quickly differentiate.

We encourage you to share other options with campusready@ucdavis.edu
What about delivery drivers that have their own keys and can let themselves into a facility? How can we make sure they are compliant with COVID-19 regulations and campus policies?
We have notified campus vendors about the requirement and are working on other solutions that could help. Send your ideas to campusready@ucdavis.edu
---
Policies, Requirements and Enforcement
Public Health Policy (Interim 290-01) outlines physical and behavioral standards applicable to all campus affiliates and non-affiliates to help reduce the spread of COVID-19 on campus. The policy addresses requirements related to face coverings, daily symptom surveys and more. Read more about the policy.
---
More Questions & Answers
We have shared some of the most commonly asked questions about the Daily Symptom Survey throughout this page, and we'll add more as we receive questions at campusready@ucdavis.edu.
Top questions about taking the survey
Is this required of employees who are working from home?
No. The symptom survey is designed to ensure that access to a facility is only granted to someone who doesn't have/show symptoms of COVID-19. If you are not visiting campus, then you are not required to take the survey.
If someone comes to campus, but does NOT enter a facility, do they need to take a Symptom Survey?
If you are visiting a worksite on campus, then you are required to complete a Daily Symptom Survey. This includes buildings, stores, facilities, agricultural fields, delivery sites or other locations where workers are present.
Do we need to take the Symptom Survey on the weekends?
Yes.
If you go from one building to another do you have to retake the survey?
If you are using the online Daily Symptom Survey, then the approval letter is like a daily pass, good for use campuswide on the current date. Every day that you enter a campus facility, you will need to complete the symptom survey.

While all campus facilities are using the Daily Symptom Survey to screen entrance, each facility may be checking the survey approval in different ways. Facilities within the same district or under the same umbrella (e.g., dining facilities) might adopt a shared screening process that would not require the employee to take the survey multiple times. For example, your department could use a sticker [see sample] that is signed and dated as a visual option to confirm someone in the facility is approved.
If I make a mistake when submitting the Symptom Survey should I retake it or notify someone?
If you make a mistake, retake it and employees, notify your supervisor.
Do I need to report a 'Not Approved' letter through Health-e-Messaging?
No. The COVID-19 reporting process is separate from the symptom survey and will remain that way. The symptom survey is used to keep sick people at home and to determine whether someone can enter a facility. The symptom survey is not used to diagnose COVID-19 cases.
Helpful but difficult to categorize:
Which survey should UC Davis Health employees complete while on the Davis campus?
When you're on the Davis campus, take the Davis campus survey. 
How does the Symptom Survey integrate with campus COVID-19 testing?

The symptom survey is built into the Health-e-Messaging portal, and uses data on your testing and vaccination status when producing survey results.

Can we get some signs?
The online toolkit has downloadable and printable signage and QR codes. A-frames and large format signs are available at no cost. Email campusready@ucdavis.edu for more information.
Why don't we use the exact same survey as UC Davis Health?
UC Davis Health is an essential industry while the Davis campus is not. While the questions are very similar, the "What to Do" section is very different from the Davis campus survey.
Does the Symptom Survey violate any HIPAA rules?
University of California attorneys have vetted the Symptom Survey and its internal verification procedure and have concluded that the survey and the procedure adhere to HIPAA rules and regulations.
Why don't you ask what facility someone is entering for contact tracing purposes?
Entering a facility does not equate to contact tracing. It just means that we are trying to protect the other occupants in the facility and maintain a safe environment. Contact tracing focused on "close contacts." Close contacts are defined as someone that you interact with, at a distance of less than six feet, for at least 15 minutes over a 24-hour period. Just because one enters a facility does not mean that you had a close contact with someone. Learn more about contact tracing at UC Davis and potential facility exposure notifications.